What is the Argos hedgehog house?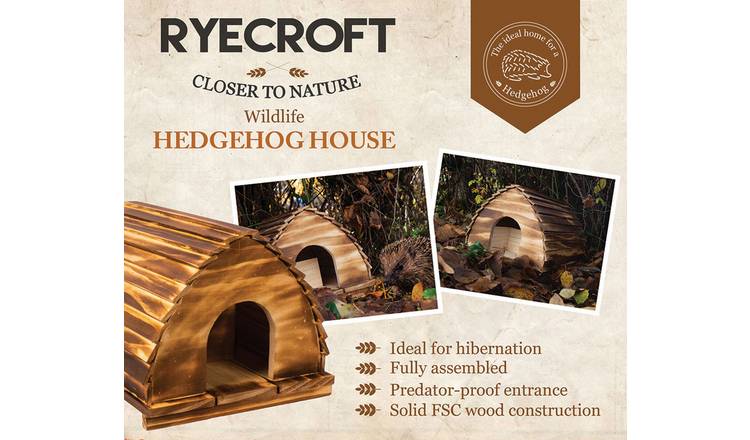 It's called the Mini-Mates Hedgehog House (…but it's actually on the market in a number of other places as the Ryecroft).
About the hedgehog house
Product Description
The Argos website quotes:
"This hedgehog house gives shelter and sanctuary from dangers in the garden making it an ideal place for a hedgehog to shelter from rain or even hibernate for the winter. The door can be opened or closed but is small enough to keep predators such as foxes out. The house also has a base for extra protection…."

(Source: Argos)
Main Points
Wooden – treated, stained
A hibernation house + made weather-proof
Come assembled – so no need to build
Size – for 1 hedgehog only
*Guaranteed for 1 year…it will probably only last 1 winter under the elements.
Useful Argos Hedgehog House Reviews & Tips
"…I laid some leafy plant cuttings/light branches over the area."

"…I applied an extra layer of paint for added protection because I want it to last."

"…within days of putting it out in the garden it is occupied by 2 hedgehogs. (4th November 2020)."

"…looks good in garden."

"…there are screws to attach hinges, small nail tacs on the base and on the back. The main components are glued together. (Recyclable)"

"…there is a door at back for access to clean."

"…visit https://www.britishhedgehogs.org.uk/leaflets/L5-Hedgehog-Homes.pdf"
Buy Mini-Mates Hedgehog House
Click here to buy the Argos Hedgehog house.